Filter
Vitamin C Facial Cleanser Face Wash Collagen Cleansing Moisturizing Skin
QUESTIONS & ANSWERS
Have a Question?
Be the first to ask a question about this.
Ask a Question
Facial Cleanser
Gentle cleansing without uncomfortable feelings
Improving dark skin/nourishing skin/whitening skin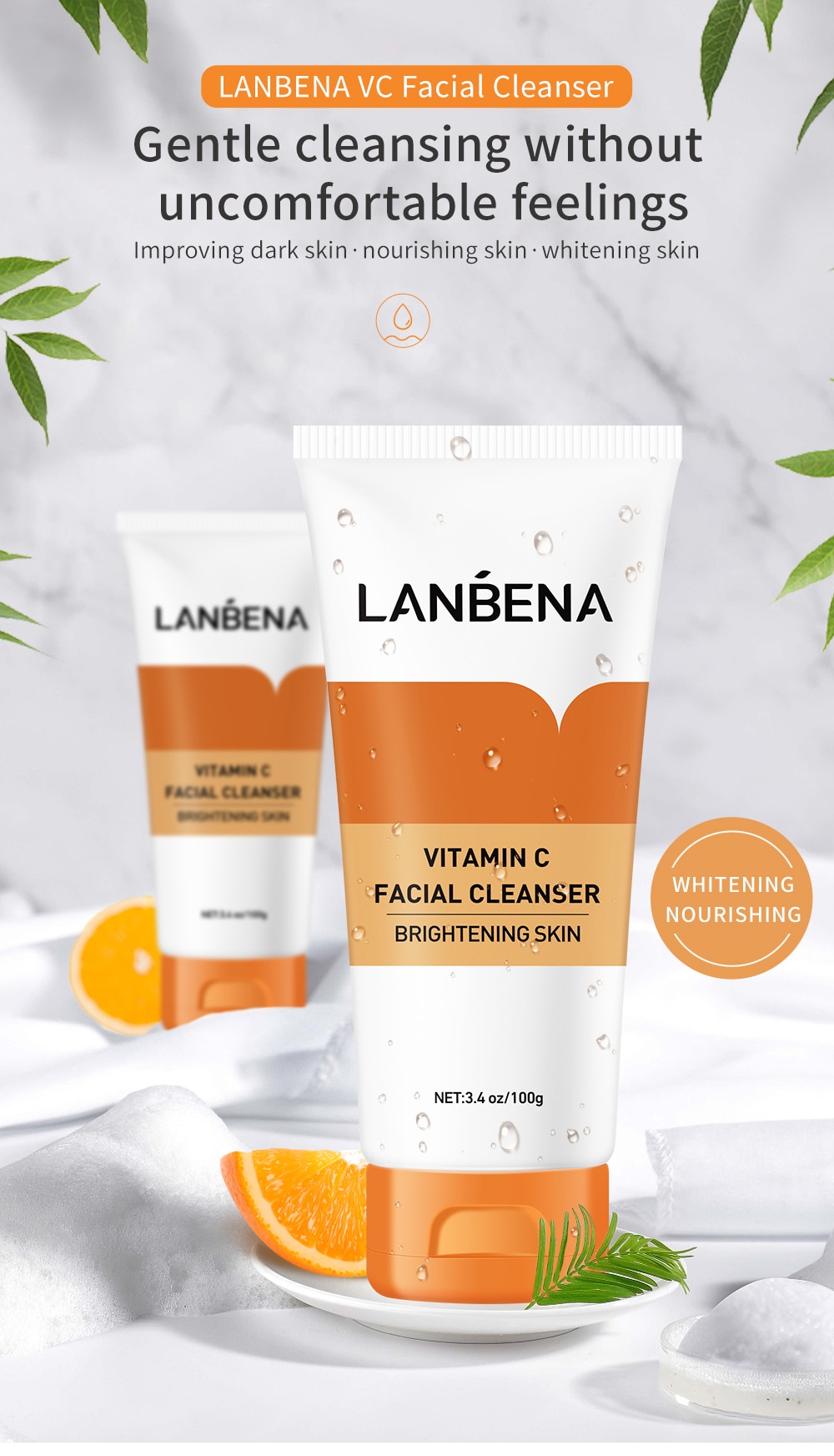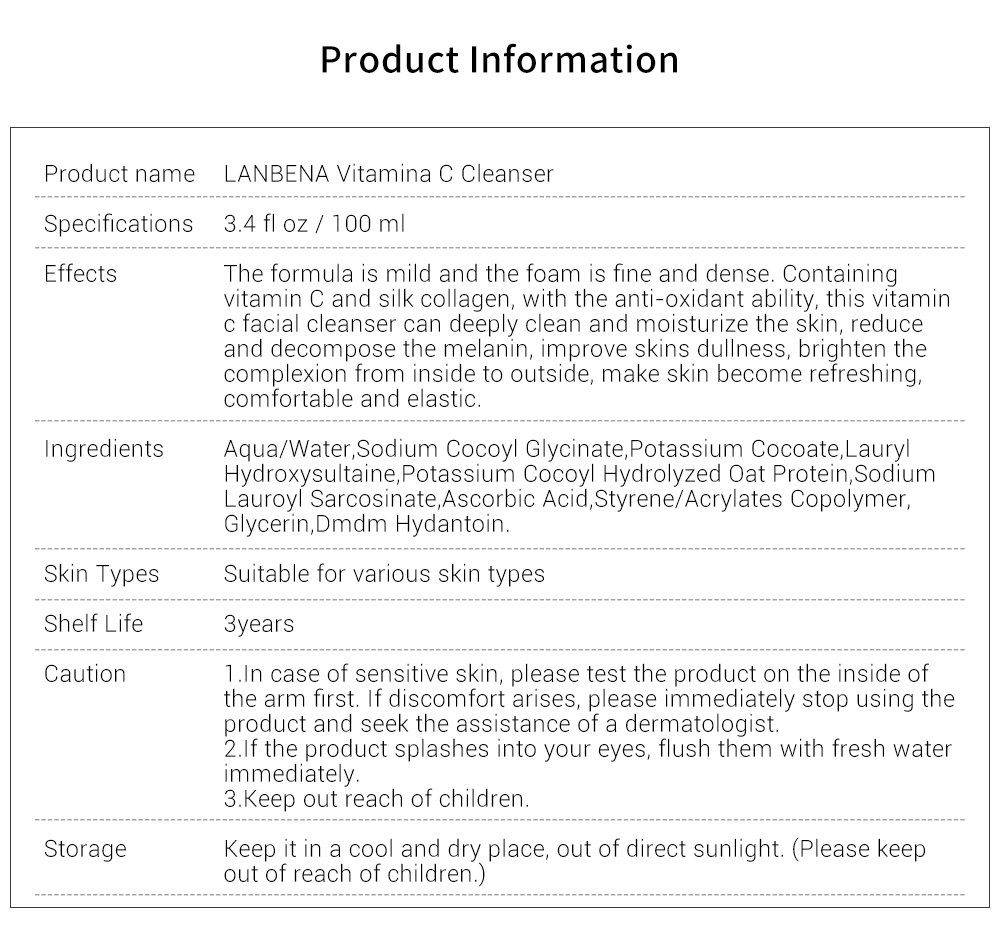 Specifications:3.4fl oz / 100 ml

Effects:The formula is mild and the foam is fine and dense. Containing vitamin C and silk collagen, with the anti-oxidant ability, this vitamin c facial cleanser can deeply clean and moisturize the skin, reduce and decompose the melanin, improve skins dullness, brighten the
complexion from inside to outside, make skin become refreshing, comfortable and elastic.

Ingredients:Aqua/Water,Sodium Cocoyl Glycinate,Potassium Cocoate,Lauryl Hydroxysultaine,Potassium Cocoyl Hydrolyzed Oat Protein,Sodium Lauroyl Sarcosinate,Ascorbic Acid,Styrene/Acrylates Copolymer, Glycerin,Dmdm Hydantoin.
Skin Types:Suitable for various skin types

Shelf Life :3years

Caution:1.In case of sensitive skin, please test the product on the inside of the arm first. If discomfort arises, please immediately stop using the product and seek the assistance of a dermatologist.
2.If the product splashes into your eyes, flush them with fresh water immediately.
3.Keep out reach of children.
Storage:Keep it in a cool and dry place, out of direct sunlight. (Please keep
out of reach of children.)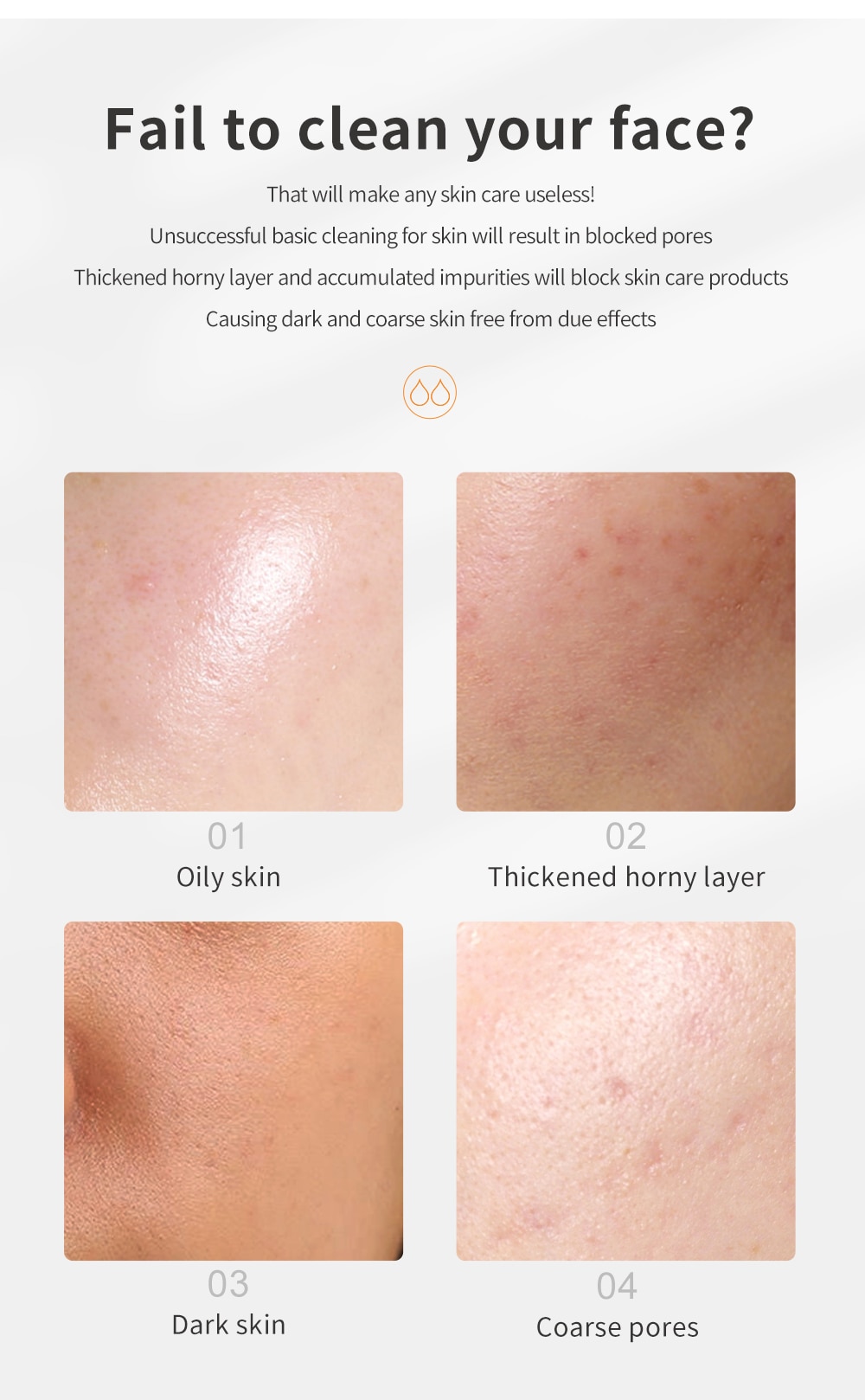 Fail to clean your face?
That will make any skin care useless!
Unsuccessful basic cleaning for skin will result in blocked pores
Thickened horny layer and accumulated impurities will block skin care products
Causing dark and coarse skin free from due effects

01 Oily skin
02 Thickened horny layer
03 Dark skin
04 Coarse pores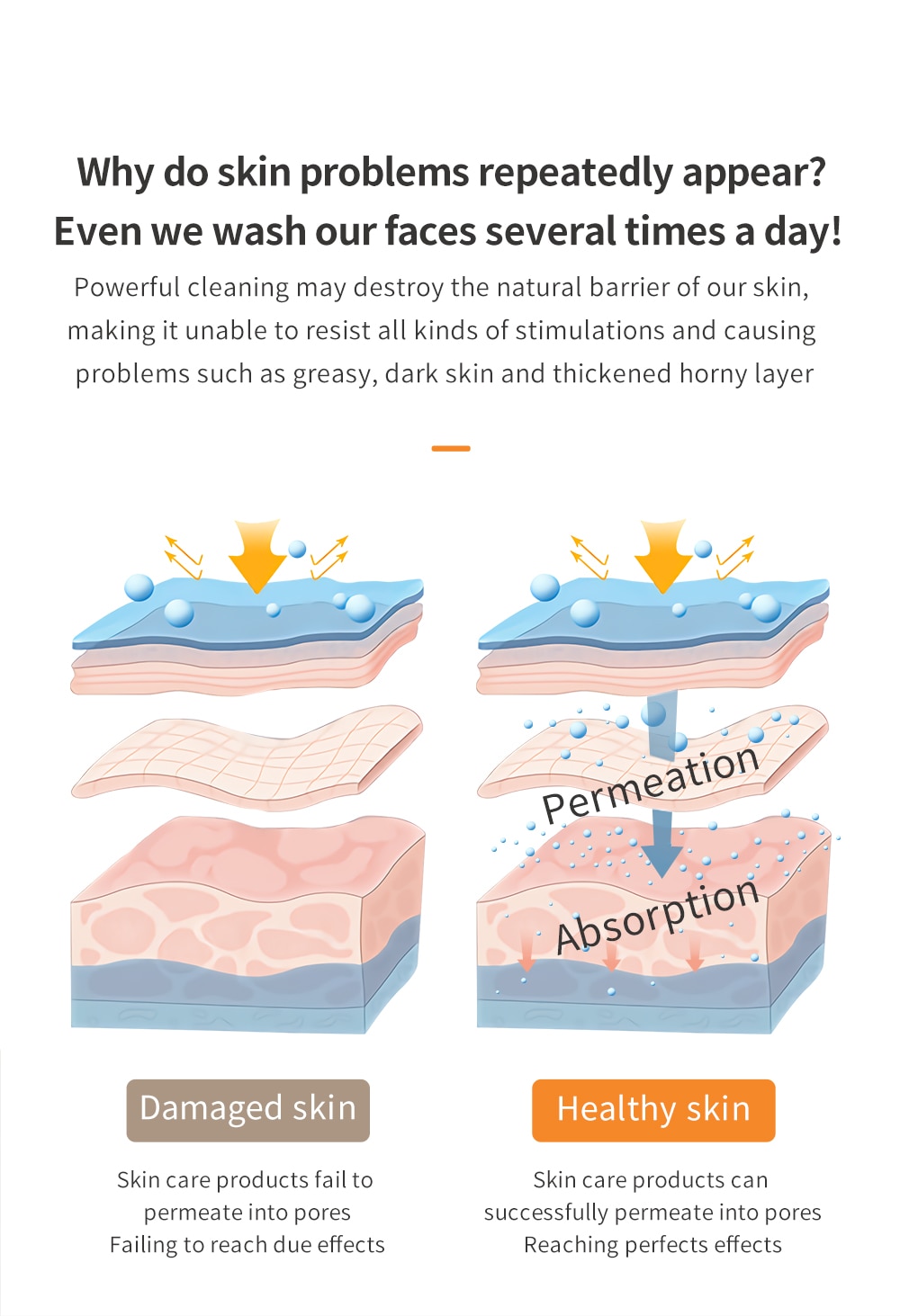 Why do skin problems repeatedly appear?
Even we wash our faces several times a day!

Powerful cleaning may destroy the natural barrier of our skin, making it unable to resist all kinds of stimulations and causing problems such as greasy, dark skin and thickened horny layer
Permeation
Absorption
Damaged skin
Skin care products fail to permeate into pores
Failing to reach due effects
Healthy skin
Skin care products can successfully permeate into pores
Reaching perfects effects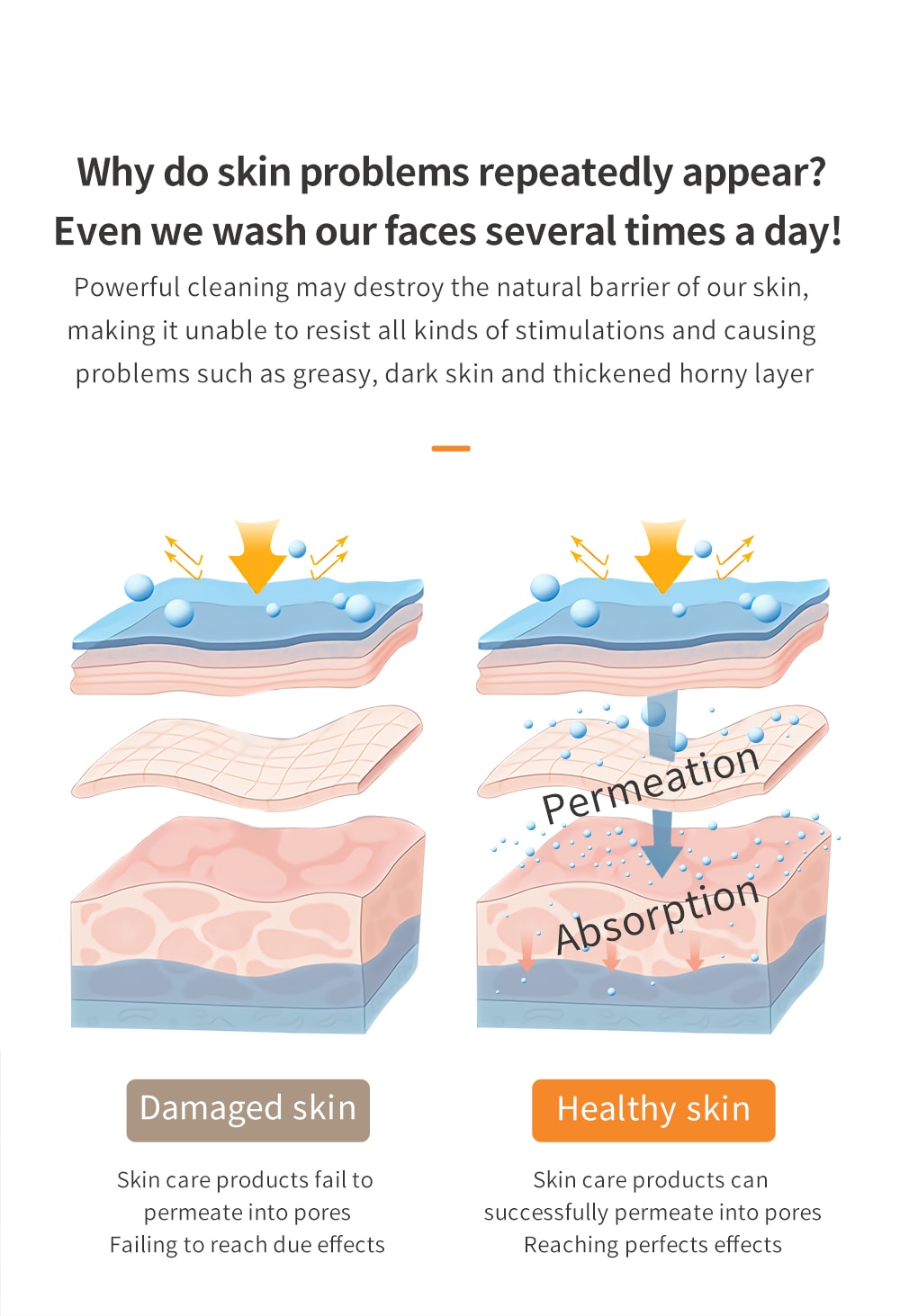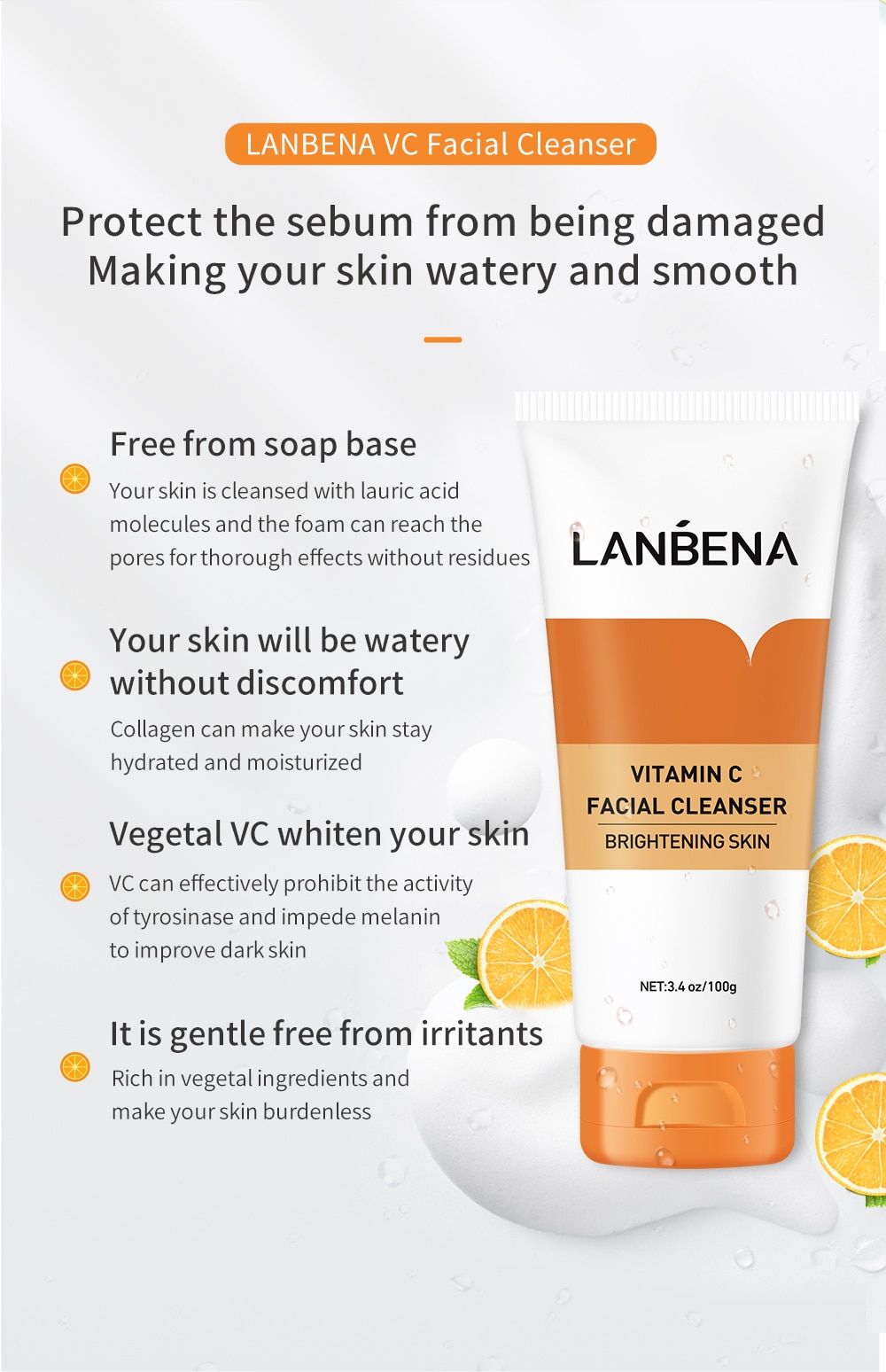 Use the product to cleanse your skin thoroughly

Protect the sebum from being damaged
Making your skin watery and smooth
Free from soap base
Your skin is cleansed with lauric acid molecules and the foam can reach the pores for thorough effects without residues
Your skin will be watery without discomfort
Collagen can make your skin stay hydrated and moisturized
The vegetal VC can whiten your skin
VC can effectively prohibit the activity of tyrosinase and impede melanin to improve dark skin
It is gentle free from irritants
Rich in vegetal ingredients and make your skin burdenless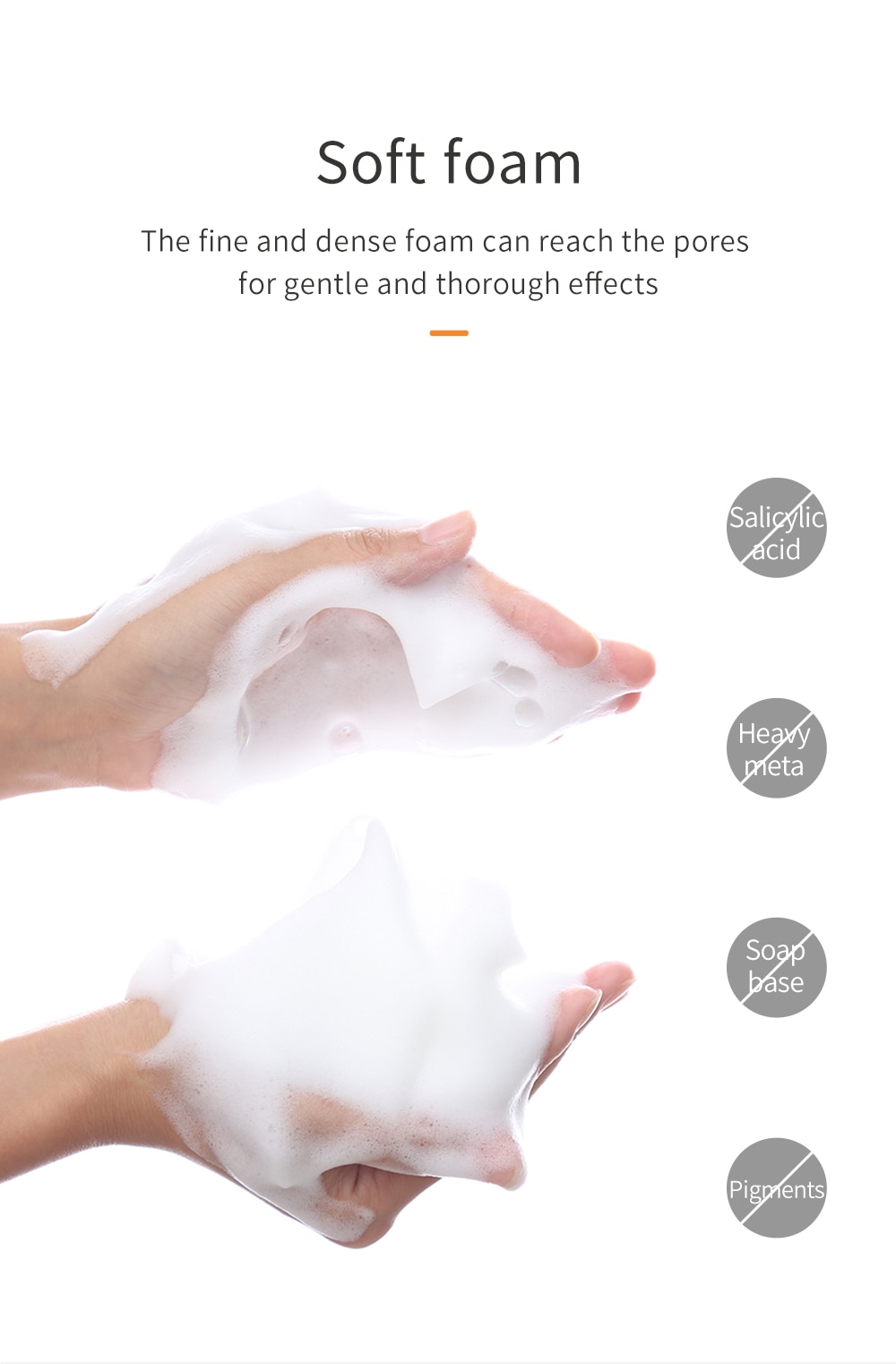 Soft foam
The fine and dense foam can reach the pores for gentle and thorough effects
Salicylic acid, heavy metal, soap base, and pigments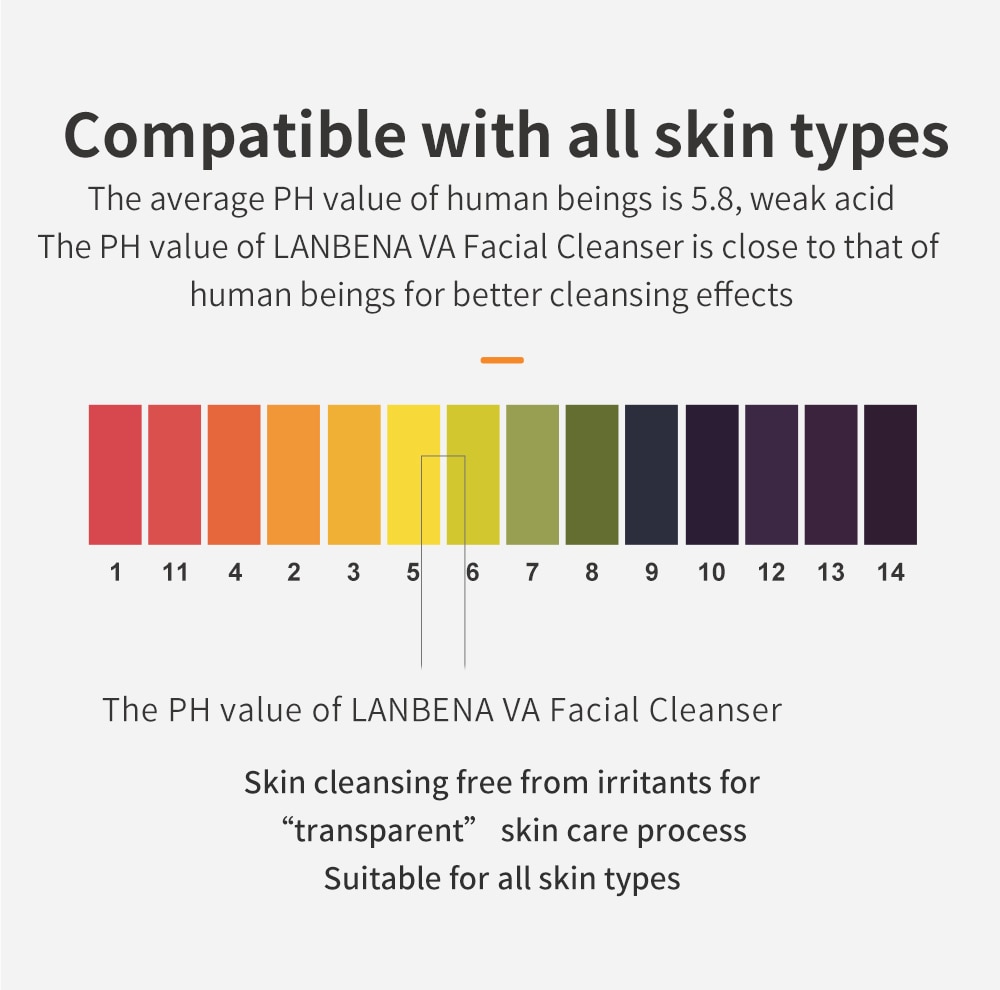 Compatible with all skin types
The average PH value of human beings is 5.8, weak acid
The PH value of LANBENA VA Facial Cleanser is close to that of human beings for better cleansing effects
The PH value of LANBENA VA Facial Cleanser
Skin cleansing free from irritants for "transparent" skin care process
Suitable for all skin types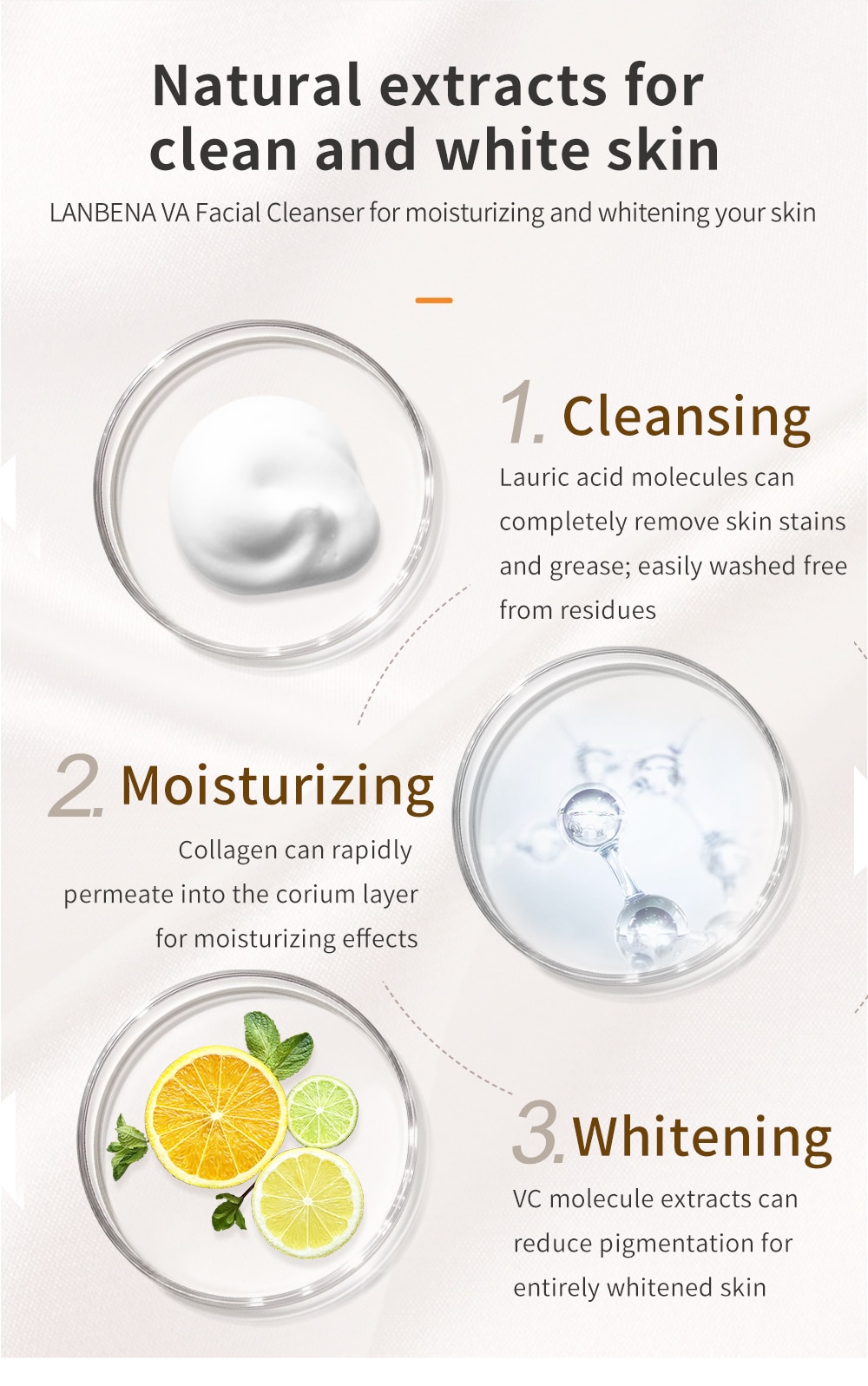 Natural extracts for clean and white skin
LANBENA VA Facial Cleanser for moisturizing and whitening your skin
Cleansing
Lauric acid molecules can completely remove skin stains and grease; easily washed free from residues
Moisturizing
Collagen can rapidly permeate into the corium layer for moisturizing effects
Whitening
VC molecule extracts can reduce pigmentation for entirely whitened skin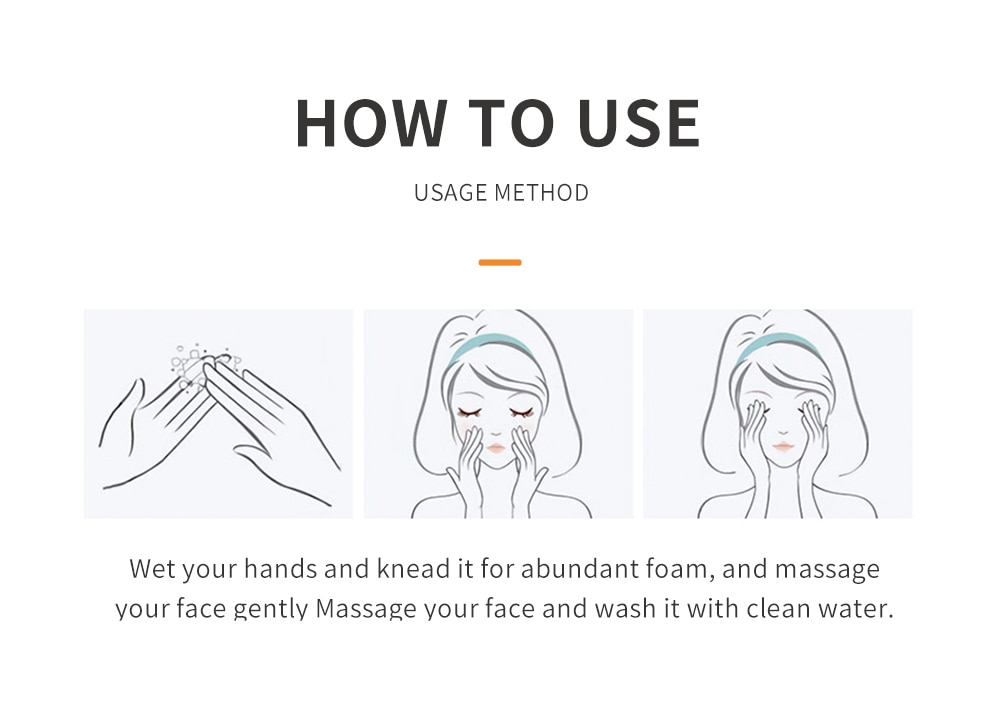 Wet your hands and knead it for abundant foam, and massage your face gently
Massage your face and wash it with clean water.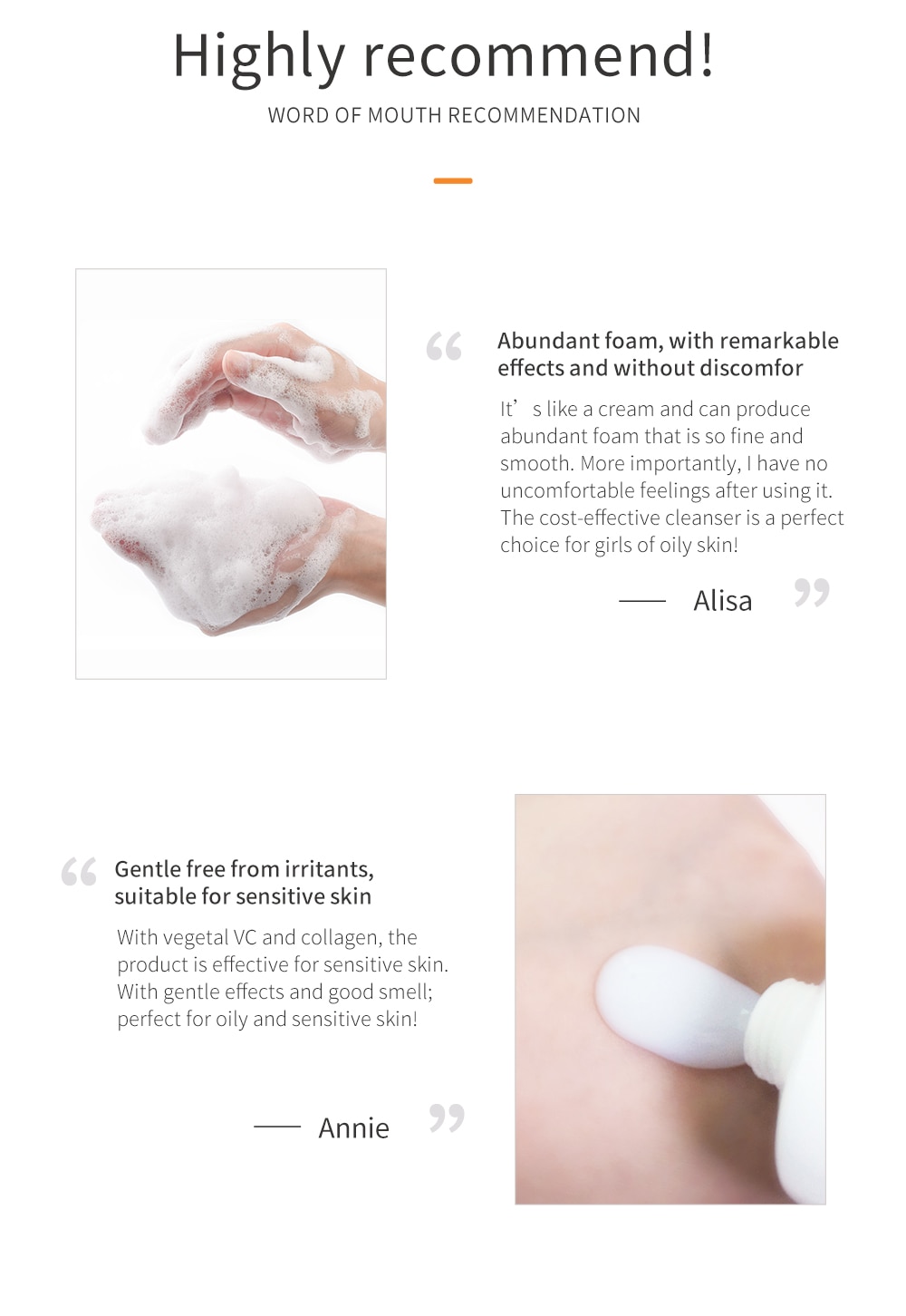 Highly recommend!
Abundant foam, with remarkable effects and without discomfort
It's like a cream and can produce abundant foam that is so fine and smooth. More importantly, I have no uncomfortable feelings after using it. The cost-effective cleanser is a perfect choice for girls of oily skin!
--- Alisa

Gentle free from irritants, suitable for sensitive skin
With vegetal VC and collagen, the product is effective for sensitive skin. With gentle effects and good smell; perfect for oily and sensitive skin!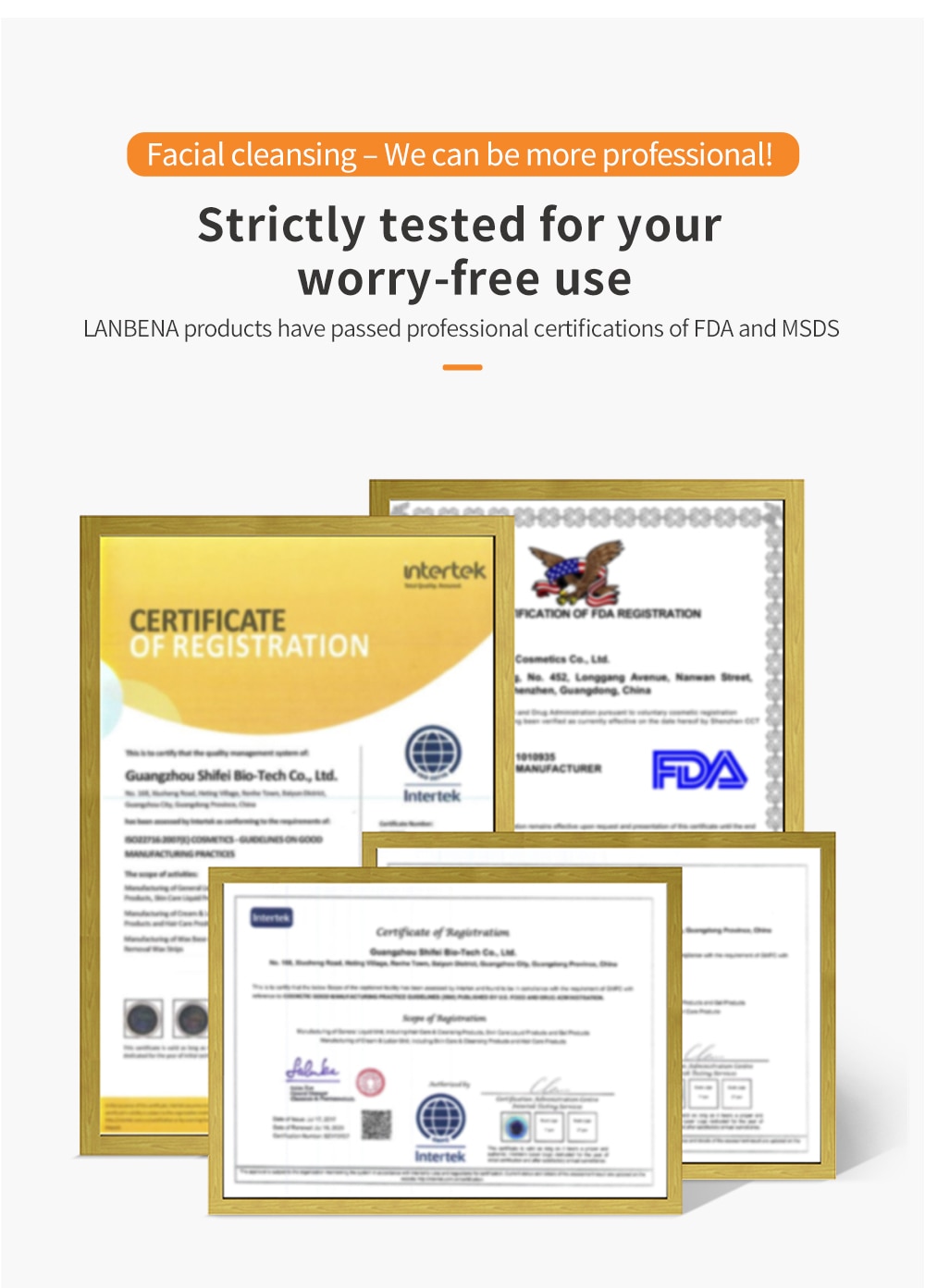 Facial cleansing – We can be more professional!
Strictly tested for your worry-free use
LANBENA products have passed professional certifications of FDA and MSDS
Free Shipping To The USA | Canada | Ireland | United Kingdom
Standard delivered 20-25 Business Days
Express delivered 10-15 Business Days
Orders are processed and delivered Monday-Friday (excluding public holidays)
All Products are cover with Amexza Insurance.
Best sellers