Filter
SanDisk Memory Card 256GB Micro SD Card Ultra A1 microSDXC UHS-I 100MB/s 256GB TF Cards For Smartphone
QUESTIONS & ANSWERS
Have a Question?
Be the first to ask a question about this.
Ask a Question
Shoot, Save And Share More Than Ever Before
The SanDisk Ultra® microSDXC™ UHS-I card is perfect for recording and watching Full HD video, with room for even more hours of video. Transfer speeds of up to 100MB/s (64GB-512GB only) ensure that you can move all your content blazingly fast—up to 1000 photos in just one minute. Ideal for Android™-based smartphones and tablets, this card's A1 rating means that you can load apps faster too.
Compatible with your devices
SanDisk® cards are compatible with Android smartphones and tablets.
Capture and store even more hours of full HD Video
With a breakthrough capacity of up to 512GB8, you can store even more hours of Full HD video on the card without worrying about running out of room for the videos, photos, music, movies and other files you want to shoot, save and share.
Transfer speeds of up to 100MB/s
Blazing transfer speeds mean that your content moves fast letting you move up to 1000 photos in a minute.
Load apps faster with A1-rated performance
Rated A1, the SanDisk Ultra® microSD™ card is optimized for apps, delivering faster app launch and performance that provides a better smartphone experience.
Class 10 speed rating allows you to shoot Full HD video and high quality photos.
SanDisk® Memory Zone app for easy file management
Available from the Google Play™ store, the SanDisk Memory Zone app lets you view, access, and back up your phone's files in one location. It can also automatically move files from your device to your memory card to free up space.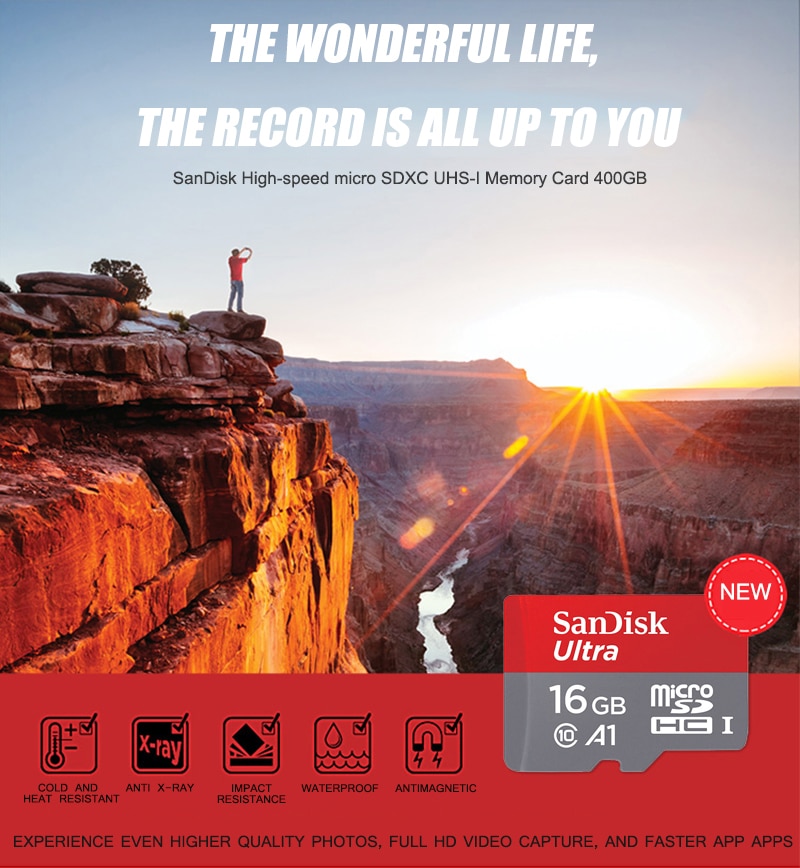 Read speed up to 100MB/S
Your files can be moved quickly and transfer 1200 photos in one minute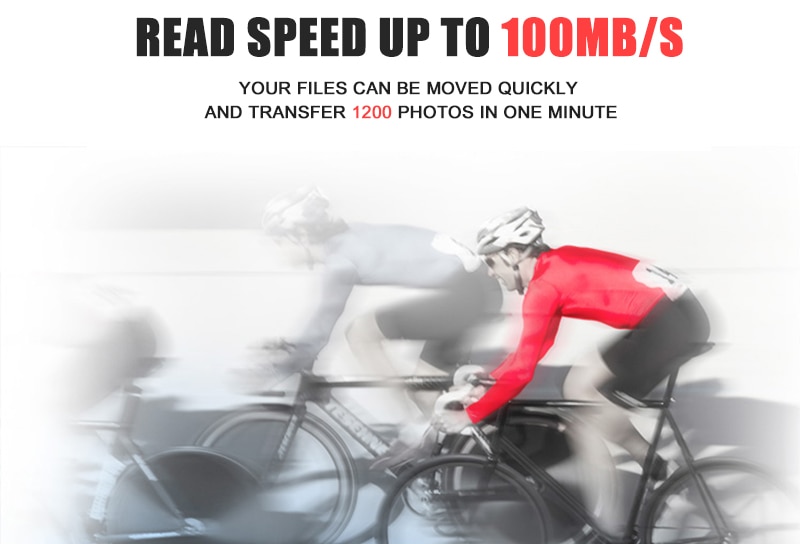 Shocking  space
The stunning space supports massive storage, and there are more full HD videos and high-quality photos.
Faster APP performance
Meets A1 performance standards, optimized for APP operations, and enables APP applications to be launched and run faster for a better smartphone experience.
(This function may vary depending on the device used, the type of application, and other factors. Please consult the host device manufacturer.)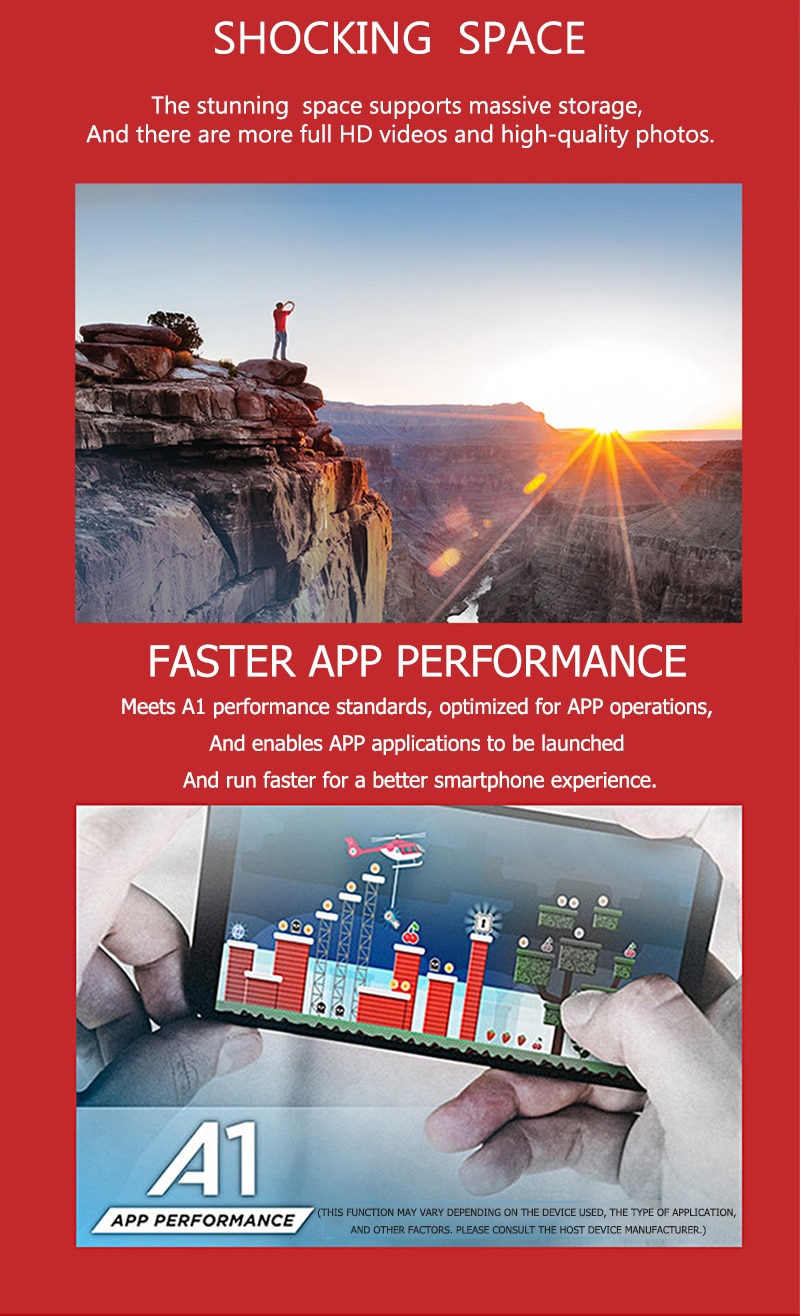 Compatible with your device
SanDisk mobile memory card is compatible with Android smartphones, tablets and interchangeable lens cameras
Class 10 video level, support full HD video capture
Easy to manage content with SanDisk Storage Zone app
Allows you to easily browse, access and backup files in your phone's memory, effectively freeing up your device's storage space.
Rugged and durable for harsh environments
The SanDisk Extreme high-speed mobile microSDXC UHS-I memory card is waterproof/impact resistant, cold resistant and X-ray resistant. You can enjoy the adventure without worrying about the durability of the memory card.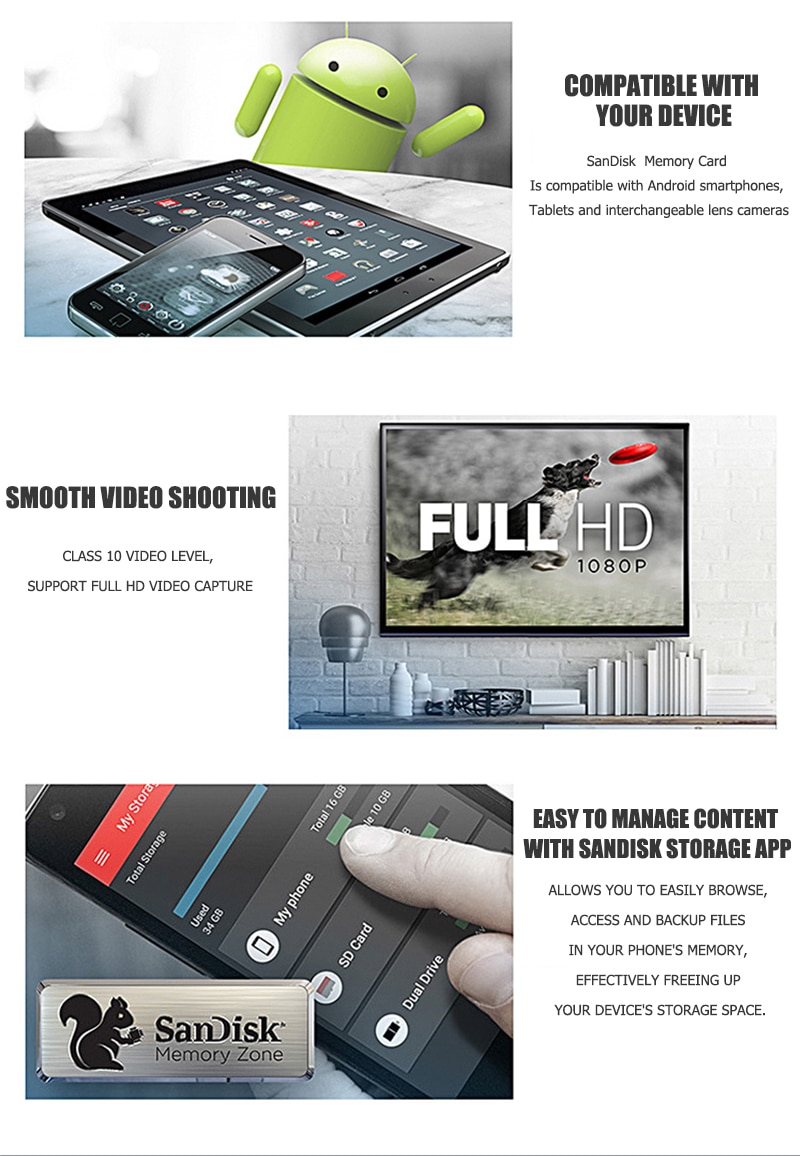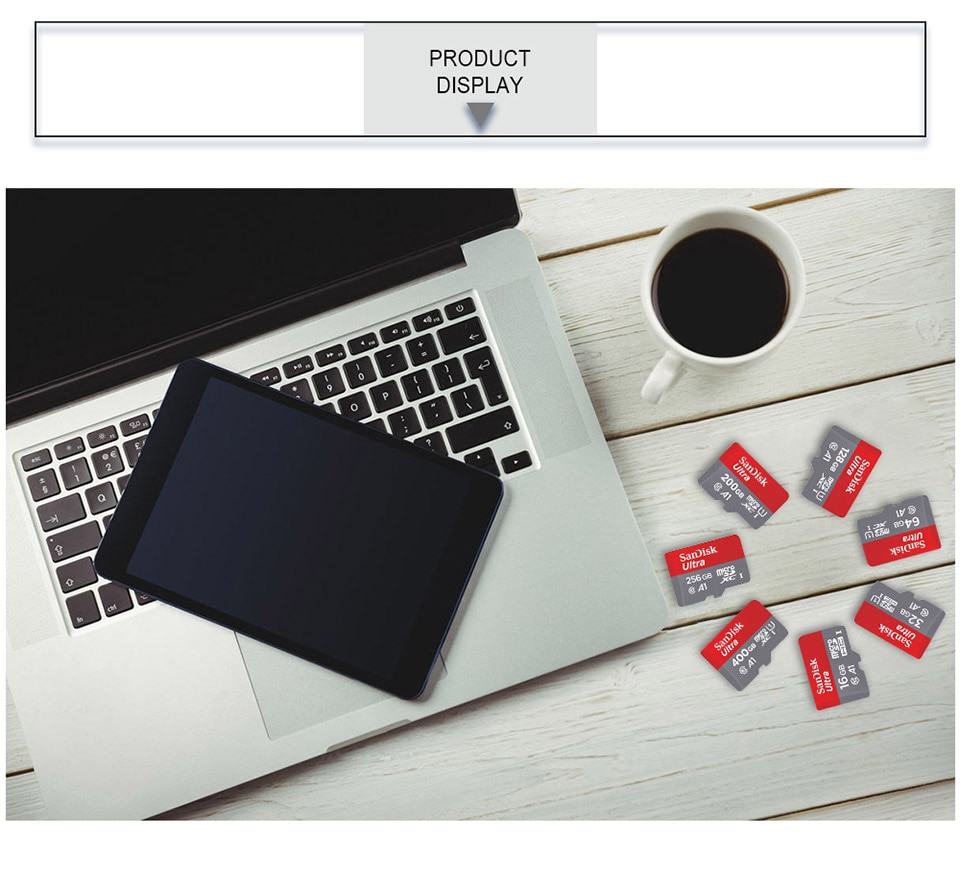 8GB = approximately 7.4GB-7.6GB
16GB = approximately 14GB-15GB
32GB = approximately 28GB-30GB
64GB = approximately 58GB-60GB
128GB   = approximately 119GB-120GB
This is calculation difference between manufacturer and your PC, please Google 'Memory card capacity' to get more information.
Your PC says 1GB = 1.073741824 Billion bytes where Market Defines 1 GB = 1.00 Billion bytes.The pursuit of the perfect person is not recommended to buy.
Steps to verify the Capacity and Speed of the memory card
(1). Please use quality USB 3.0 card reader to verify all memory card by H2testw on PC.
 Real memory card should pass H2testw with no error.
(2). Please don't use cheap card reader to test Micro SD card, speed of Micro SD card will be reduced by 
low quality card reader.
(3). Micro SD memory card speed is greatly affected by card reader and the capacity you choose , 
USB port etc. Low quality device will 100% slow down card speed,1MB=1000KB.
100% Original the SanDisk Micro card !
We are t
op seller and o
nly one s
upport o
fficial v
erification for original genuine SanD
isk , warm service ,the lowest price on aliexpress ! 
Individual gifts may be of questionable quality and miss gift, because this is a gift, so we do not support a refund, but we can compensate you again at the next shopping.
Note for the delivery (please read before ordering ):
Value is less than 5$ Mode of transport= China Post Ordinary Small Packet Plus
1.The free shipping way is sent with tracking number can only be tracked before leave China.
2.The shipping time to many country normal is 15 - 45 working days( Russia and Brazil 30- 60 working days)
3. if your Confirmation Time is coming,and still not do receive the goods,please contact with us to extend the delivery date.
4. However, Please do trust us. You will get the package in time.
5. If Items is not received in 60 days,we will 100% refund 
6. Please do not open dispute within 60days,Thanks for your kindly.
7. When you make the order,it means that you agree with the above instructions.Thanks.
Free Shipping To The USA | Canada | Ireland | United Kingdom
Standard delivered 20-25 Business Days
Express delivered 10-15 Business Days
Orders are processed and delivered Monday-Friday (excluding public holidays)
All Products are cover with Amexza Insurance.
Best sellers