Eyoyo CT007X USB Wireless Wired Portable Barcode scanner 1D laser Scanner Bar Code reader Barcode Scan leitor de codigo de barra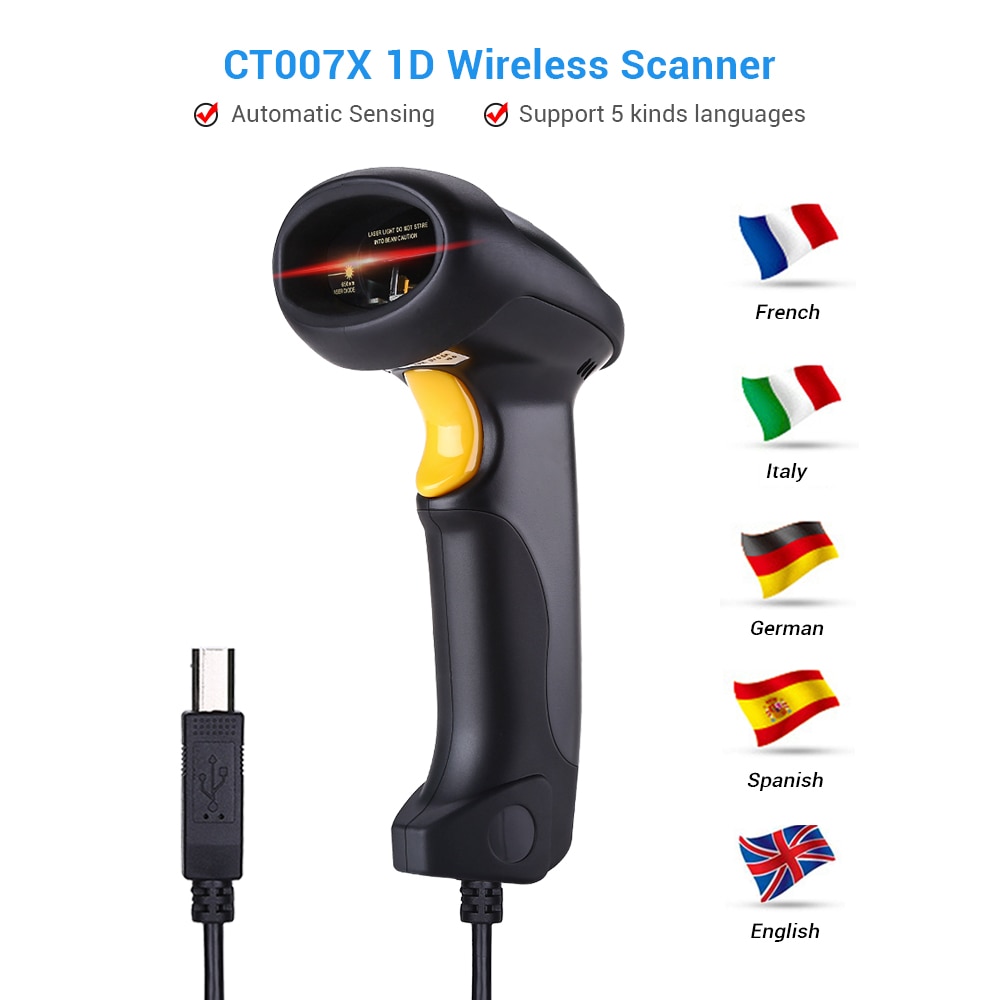 Q&A:
Q: Is this wireless scanner?
A: Yes, the parcel will come with a 2.4G Dongle, it can be wired scanner or 2.4g wireless scanner.
Q:How long can the battery be used?
A: The Scanner come with built-in 1800mAh lithium battery. In full power condition,  the scanning time up to 9h, stand time up to 720h.
Q:Does it have Automatic scan mode?
A: Yes, CT007X will have two scan modes, Automatic scan mode& Manual Scan mode.
Q:How long is the warranty? 
A: Eyoyo will offer our buyers the following After-Sell service:
7 days no reason return/ 15 days no reason exchange/ 1 years warranty. While any artificial damage will not enjoy the free warranty.
Specification :
Light source:laser LED650+/-20nm
Decode capability: Code car,Code 11,Code 93 MSI ,Code 128,UCC/EAN-128,code39,EAN-28,EAN-13,UPC-A,ISBN,Industrial 25,Interleaved 25,Standard 25,2/5 Matrix
Resolution :3mil
Nominal working distance:6-30 cm
Decode Rate:100 decodes persecond
Scan width: 30 mm
Decode mode:Single –line aiming
Scan code : Auto off mode/Manual mode
Print contrast Minimum: 30%
Scan angles:Roll 30 ,Pitch 75,Yaw 65
Cylinder Horizontal Scan:Diameter 35 mm
Indication : Beeper LED
Interfaces supported : USD2.0
Processor:ARM 7 72Mhz
EEPROM:256K ,can store thousands of barcodes
Wireless communication :2.4G wireless transmission
Battery : it is built in 1800mAh lithium battery.

Package list:
CT-007X *1pcs
USB cable *1 pcs
2.4G USB wireless receiver*1 pcs
Inventory mode setup card(paper version)*1 pcs